Global companies are under increasing pressure to do more for less, improving products without additional resources or costs to stay competitive. The need of the hour is to invest in smarter solutions that combine the efficiencies of on-site staff with the cost of outsourcing. This need has led to the genesis of Smartshoring™, which is the panacea for all the pressing demands of dynamic customer expectations and profitable sustenance.
Amnet in its continuous search for excellence realized that though pure offshoring has its advantages, it's not always optimal. In its endeavor to optimize processes to efficiently and effectively enhance service delivery, Amnet follows Smartshoring™, which is a smart balance between onshore and offshore resources enriched with strategic global partnerships across multiple geographies. Amnet Smartshoring™ is essentially an amalgamation of the best features of onshore and offshore services, the objective being efficient processes, prudent cost management, and enhanced service delivery.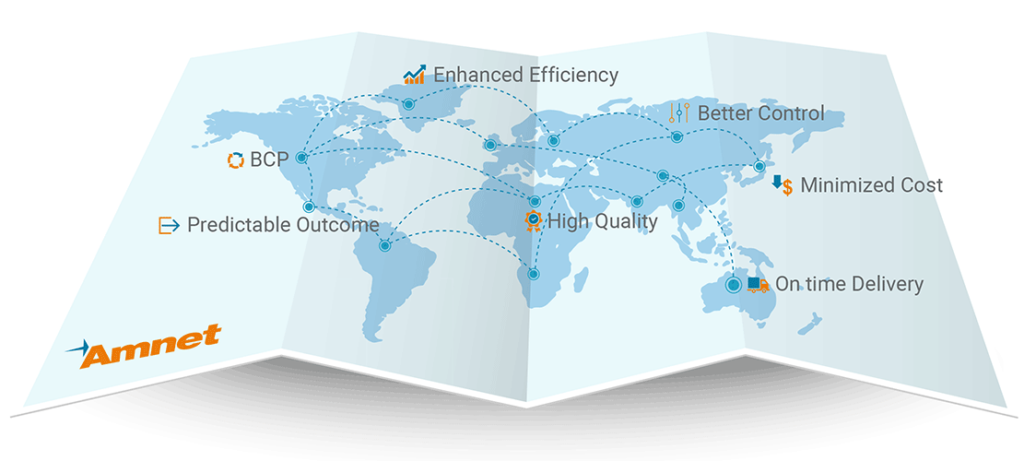 Streamlined communication across Amnet's Smartshore locations enables a clear and profound understanding of customer expectations in providing solutions. The result is a cohesive output that minimizes cost, improves productivity, and shortens time to market. Amnet Smartshoring™ allows you to have a resource base that is better aligned to your goals, quality standards, and corporate culture regardless of time and distance.
Smartshoring™ in a nutshell
Decoupling specialized/skill intensive services from production services to bring down cost
Selecting strategic partners to tap into the most mission specific talent
How does it benefit you?
Enhanced efficiency—resource expertise is more aligned to your goals
High quality services—a blend of creative and process expertise
Better control—liaison with local account management
Predictable outcome by virtue of custom built delivery unit
Lower operational cost—optimized with offshore resources
Shortened time to market—effective project management
A solid business continuity plan