Approximately 17% of the world's population is visually challenged, 2.6% has an intellectual disability, and 1% require a wheelchair for mobility.  Considering the growing importance of web accessibility vis-à-vis the increasing population with varying degrees of disabilities, the World Wide Web Consortium (W3C) created Web Content Accessibility Guidelines (WCAG) to provide an actionable framework.
W3C Standard Accessibility Guidelines
WCAG 2.0 is a gold standard version
WCAG 2.1 is the latest version that is an extension of WCAG 2.0
Accessibility Laws
WCAG 2.0 was the gold standard and served as a foundation for international accessibility laws. In several countries across the world, governments are mandating change and starting to enforce compliance with accessibility regulations like ADA, WCAG, Section 508, and other global laws.
Noncompliance is no longer an option
Accessibility needs to be addressed in the near term as you run the risk of facing lawsuits and negative brand impact. Lawsuits are steadily on the rise. ADA related cases in 2020 increased 23% over 2019.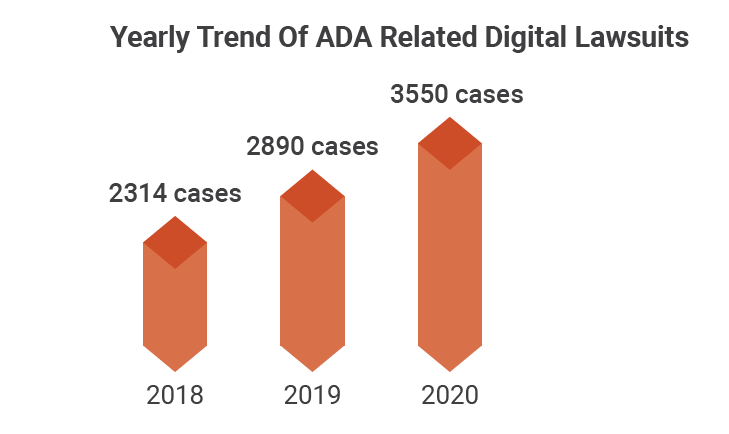 Accessibility Global Laws
USA
Americans with Disabilities Act (ADA)
Section 508 – Rehabilitation Act of 1973
Canada
Accessible Canada Act (ACA)
Accessibility for Ontarians with Disabilities Act (AODA)
UK & Europe
European Accessibility Act (EAA)
Web Accessibility
Directive
EN 301 549
Equality Act 2010
Disability Act 2005
Australia
Disability Discrimination Act (DDA)